Porsche Brake Repair In Los Angeles, CA
<.--
Porsche Brake Repair In Los Angeles, CA
–>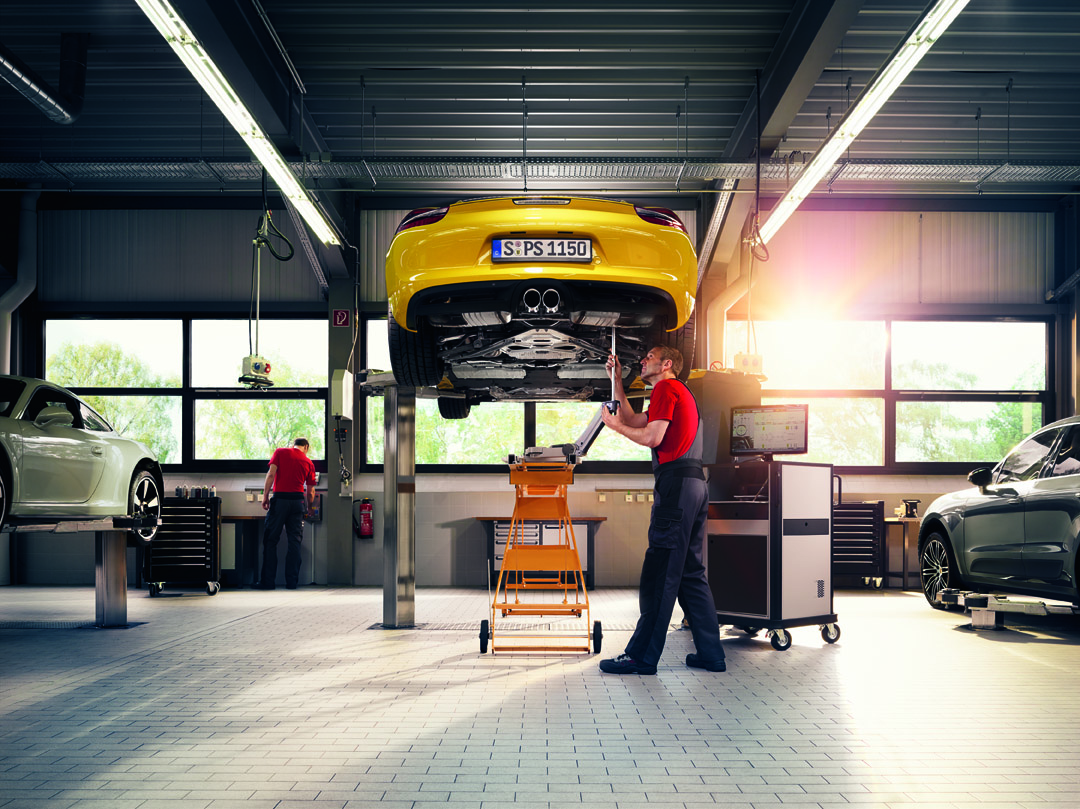 While there are no specifications for how often you should get a brake inspection or brake service on your Porsche vehicle, it's important to keep an eye on the pad thickness of your brake pads, as well as get your brake shoes and brake drums inspected every so often to ensure they are in optimal condition. If you get to the point where you hear grinding or squealing when applying pressure to your brakes, or you experience a decrease in braking power, it's extremely important that you take your vehicle to a certified Porsche service center you trust, much like the one at Porsche Downtown LA. The brake pads, brake shoes, and brake drums on your vehicle are what help it come to a complete stop in seconds and, consequently, keep you safe. Over time, as pad thickness decreases and your brake components begin to wear out, braking power also decreases, leaving you in a position that compromises your safety and the safety of those around you. Need a take care of a Porsche brake repair in Los Angeles, California? Let our certified Porsche mechanics do a thorough brake inspection and then get to work on giving your favorite Porsche car the quality brake repair service it deserves using only the finest in Porsche genuine brake parts.
In addition to offering top-quality Porsche brake repairs in Los Angeles, CA, we also promise a welcoming environment filled with friendly and knowledgeable professionals who are dedicated to you and your Porsche Downtown LA experience. With superb customer service and communication on our side, as well as a full menu of competitively priced Porsche services and Porsche repairs, and a team of expert Porsche mechanics that know your vehicle inside out, our Porsche service center is the place to go. Get in touch with our team to schedule your next Porsche repair.
Need expert help with an oil change, windshield wiper replacement, fluid top-off, Porsche car battery diagnostic service, or other important Porsche maintenance? How about an unexpected Porsche repair? Let the Porsche mechanics in our service center get the job done and get it done right. To learn more about our full menu of Porsche services, including brake inspections and Porsche brake repairs in Los Angeles, CA, pick up the phone and give our service center a call now.
Call Now For Service:
(213) 222-1295
<.--background-image: url('data:image/svg+xml;base64,PD94bWwgdmVyc2lvbj0iMS4wIiBlbmNvZGluZz0idXRmLTgiPz4gPHN2ZyB2ZXJzaW9uPSIxLjEiIHhtbG5zPSJodHRwOi8vd3d3LnczLm9yZy8yMDAwL3N2ZyI+PGRlZnM+PGxpbmVhckdyYWRpZW50IGlkPSJncmFkIiBncmFkaWVudFVuaXRzPSJvYmplY3RCb3VuZGluZ0JveCIgeDE9IjAuNSIgeTE9IjAuMCIgeDI9IjAuNSIgeTI9IjEuMCI+PHN0b3Agb2Zmc2V0PSIwJSIgc3RvcC1jb2xvcj0iIzAwODRkZCIvPjxzdG9wIG9mZnNldD0iMTAwJSIgc3RvcC1jb2xvcj0iIzAwNjZhYSIvPjwvbGluZWFyR3JhZGllbnQ+PC9kZWZzPjxyZWN0IHg9IjAiIHk9IjAiIHdpZHRoPSIxMDAlIiBoZWlnaHQ9IjEwMCUiIGZpbGw9InVybCgjZ3JhZCkiIC8+PC9zdmc+IA==');-->
Hours
Dealership Hours
Mon – Sat
8:30am – 8:00pm
Sunday
9:30am – 7:00pm
Service Center
Mon – Fri
7:00am – 6:00pm
Saturday
8:00am – 4:00pm
Sunday
Closed