How To Pronounce The Word "Porsche"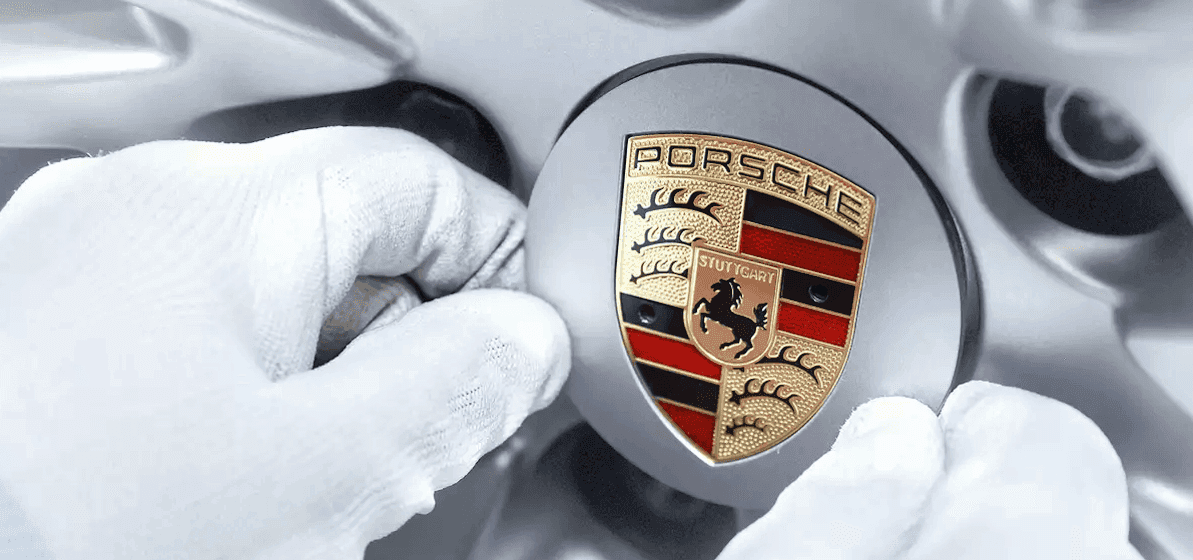 While the Porsche is thought to be pronounced "Porsch," with a silent "e" at the end. This pronunciation is incorrect. "Porsche" is actually a two-syllable word with a stressed vowel on the "e" with German pronunciation. In proper German pronunciation, Porsche is pronounced "Por-shuh" or "Por-sha" pronounced in the phonetic alphabet as "pɔɐ̯ʃə", again with a stressed, flattened "e" instead of a "silent e" in typical American English pronunciation. After know how to say Porsche correctly, you'll learn there are unique names and pronunciations for some of the German car brand's most popular models. This page will also teach you how to pronounce Cayenne, Macan, and more Porsche car names. Read on to learn more about how to pronounce Porsche models and a bit of Porsche history from the automotive professionals and enthusiasts at Porsche Downtown LA.
How to Pronounce Porsche "Macan"
As you continue your search for a top luxury crossover or SUV, you may also find yourself thinking, "How do you pronounce Porsche Macan?" Once again, the brand keeps things concrete for Los Angeles customers with just two syllables: "mah-kaan." The first syllable has a soft "ma" pronunciation, while the second has a short "K" sound alongside a soft "A" which will sound like "ah."
How to Pronounce Porsche "Cayenne"
Once you've learned how Porsche is pronounced on its own, when shopping for your next luxury SUV in Los Angeles, you might be wondering, "How do you say Porsche Cayenne?" This model name is also pronounced with two simple syllables: "kye-anne." To break it down even more, the first syllable will sound similar to "eye" with just a short "K" sound at the beginning, and the second syllable has a soft "A" sound as if you were simply saying the name, "Anne."
What Does Word Porsche Mean?
Now that you know how to pronounce Porsche, let's take a closer look at the history of the brand itself. The company was founded in 1948 by Ferdinand Porsche, who named the company after himself. While the brand has often been simply referred to as Porsche, the full name of the company is taken right from its founder, Dr. Ing. h.c. F. Porsche AG. This may seem like an unusual title for a racing or luxury car company, but it references Ferdinand's doctoral credentials as an expert in automotive engineering and his vision for innovation. The "AG" at the end of the name stands for "Aktiengesellschaft," which means "shares company" in German. This indicates that the company is owned and operated by a group of shareholders. Here's a quick timeline of how the Porsche brand has become one of the leading racing and luxury automotive brands in the world:
1950: The series production of the Porsche 365 began.
1953: The 550 Spyder won its first race at the Nürburgring.
1956: The 10,000 Porsche 365 is produced, which coincided with the automaker's 25th anniversary.
1964: The series production of the Porsche 911 commences.
1972: Porsche AG was founded.
1974: The Porsche 911 Turbo made its debut at the Paris Auto Show. It was the first production sports car that featured an exhaust turbocharger and pressure regulator.
1989: For the first time, the Porsche 911 Carrera features the "Tiptronic" automatic gearbox system.
1996: The 1 millionth Porsche vehicle was produced on July 15.
2002: The Porsche Cayenne SUV is the third model line produced by the brand.
2005: Construction of the Porsche Museum begins in Zuffenhausen.
2016: The new Panamera G2 makes its world debut in Berlin.
Find Your Next Luxury Vehicle at Porsche Downtown LA
After learning how Porsche is pronounced, are you ready to experience the difference behind the wheel of a luxury Porsche sedan or SUV on Los Angeles roads? Learn more about what sets the Porsche brand apart from the rest at Porsche Downtown LA, and check out our inventory of exciting new vehicles for sale. You'll even find additional savings on luxury models when you take a look at our national offers and incentives. Get started today with a member of our sales team, or value your trade-in right at home. Contact us today for more information or schedule a test drive in any vehicle from our dealership located at 1900 S. Figueroa Street Los Angeles, CA 90007!

More Porsche Topics & Features
The Porsche Macan is one of the preferred luxury SUVs for drivers in the Glendale area, but how much can a Porsche Macan tow? The maximum towing capacity of the Porsche Macan is an impressive 4,409 pounds. When you consider its luxury interior and design, it's no wonder so many find this vehicle versatile and…

The 2022 Porsche Cayenne colors come in dazzling options that are sure to make your presence known in Los Angeles. From class white and back Porsche Cayenne colors to a bold red option, you're sure to find the color that matches your aesthetic with the new Cayenne. What's more, you'll find a curated selection of single…

Not too many vehicles can compete with the Porsche 911 in terms of track prowess, luxury, and most importantly, power. For the 2021 Porsche 911 colors, there are various options available that are sure to suit your taste, such as metallic, standard, or even special colors that are only available on the 911. You can…